This post brought to you by PopWatchers. All opinions are 100% mine.
I can't get over the fact that it's already November! Holiday shopping is already out to get us! And to be honest, I'm not one able to handle going from store to store in search of the perfect gift for everyone. Plus, doing that only tends to lengthen my wish list. Not the greatest.
But, I mean, there's no harm in treating yourself to a little gift for all your hard holiday shopping work! Which is what I guiltily already caught myself doing when searching through this site . Majority of my shopping gets done online, so I found this site,
PopWatchers
, to be brilliant, since it is an easy, one-stop search for a few of my online favorites, including Ebay, Etsy, Amazon, and Zappos. It's extremely easy to use and separates your search results into the most popular products and the best matching. You also have the option of searching by price range. And yes my search was for some fabulous
Jeffrey Campbells
. Can you blame a girl??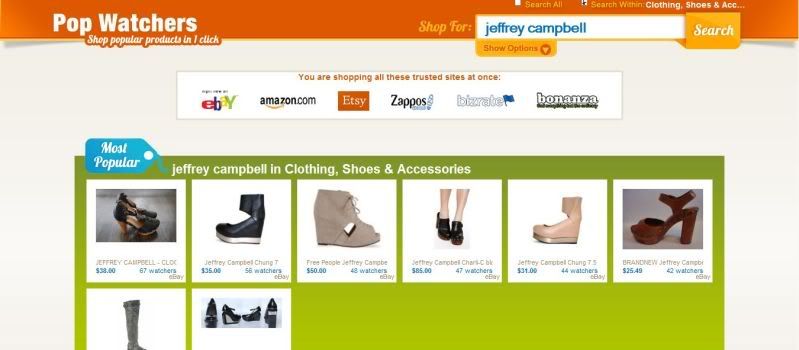 l ultimately found PopWatchers to be a great time saver and I hope you dolls get some use out of it too. ♥